Professor Rehman Sobhan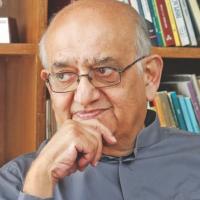 Position: Honorary Member
Bio: 
Professor Rehman Sobhan was born in Calcutta on 12 March, 1935. He was educated at St. Paul's School, Darjeeling (1942-50), Aitichison College, Lahore (1951-52) and Cambridge University (1953-56) where he was awarded an MA in Economics. He began his working career on the faculty of Economics, Dhaka University in 1957 and retired as Professor of Economics in 1977.
Throughout his long and distinguished career as an economist, researcher, political scientist and public intellectual, Professor Sobhan has worked to uphold the welfare and interests of the average Bangladeshi, especially the poor. Through his many books, articles and speeches, he has contributed to the body of knowledge that has improved our understanding of poverty, the process of economic growth, and the role of power in a society. His book Challenging the Injustice of Poverty: Agendas for Inclusive Development in South Asia draws upon "studies across various South Asian countries, (the book) redefines poverty as a process where certain sections of the society are excluded from equal participation in development opportunities as well as decision-making. It further identifies a variety of operational ideas for policymakers, political activists and civil society advocacy groups committed to build a more just and poverty free society in South Asia."
Professor Sobhan has played an active advocacy role and made many contributions outside the world of academe, including serving as Envoy Extraordinary with special responsibility for Economic Affairs (1971), Member of Bangladesh Planning Commission (1972-74), Member of the Advisory Council of the President of Bangladesh in charge of the Ministry of Planning and Economics Relations Division (1991), Founding Chairman of the Centre for Policy Dialogue (CPD) since 1993, and as Chairman of the Board of the Grameen Bank (1996-2002). 
For his distinguished service to the economics profession and to the nation, Professor Sobhan has received a number of awards including, the Bangladesh Bank Purushkar (2000) for services to the economics profession in Bangladesh, and the Bangladesh Shadinata Purushkar (2008), the highest civil award in Bangladesh.