National Professor Jamilur Reza Choudhury (Deceased)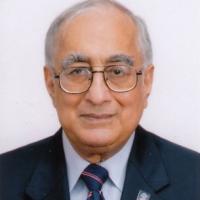 Position: Honorary Member
Bio: 
Professor Jamilur Reza Choudhury received his B.Sc. from what was then the East Pakistan University of Engineering & Technology (EPUET, now BUET), and his M.Sc. and Ph.D. from University of Southampton (UK). His academic awards include a Commonwealth Academic Staff Fellowship and an honorary doctorate from Manchester University.
Having begun his academic career in 1963 as a lecturer in civil engineering at EPUET, Dr. Choudhury rose to the rank of Professor at BUET in 1976. He held several administrative positions at BUET before joining BRAC University as its first Vice Chancellor and remained in that position for nine years. In 2012, he joined the University of Asia Pacific as its VC. In 2018, the Bangladesh Government recognized his numerous academic contributions by bestowing upon him the title of "National Professor."
The author of some 70 papers in international journals and conference proceedings on a vast range of topics, Professor Choudhury gained prominence early with his important 1967 article in American Concrete Journal. This article presented a simplified method for the analysis of shear walls in high-rise buildings, known since then as "Coull and Choudhury method," that has been used in the design of a large number of high-rise buildings all over the world. He is a Fellow of the Institution of Engineers (Bangladesh), the Institution of Civil Engineers (UK), Bangladesh Computer Society, and the Bangladesh Academy of Sciences.
Professor Choudhury has served as consultant to a large number of national and international agencies on projects related to tall buildings, industrial buildings, transmission towers, aircraft hangars, stadiums, ports and jetties, and the computerization of public and private sector organizations. He has served on the panel of experts to the Bangladesh Government and international donors for the Bangabandhu (Jamuna) and the Padma Bridges, and led Bangladesh Government taskforces on cyclone shelters, earthquakes, IT policy, and voter lists. He has served as Chair, Board of Directors, Bangladesh Shilpa Bank (Industrial Bank of Bangladesh) and as Chair, Board of Governors, Bangladesh Institute of Technology, Chittagong, now renamed CUET. He was appointed Adviser (Minister) in the 1996 Bangladesh Caretaker Government, with responsibility for the Ministry of Energy and Mineral Resources and the Ministry of Water Resources.
Professor Choudhury has been widely recognized by numerous organizations, including the Rotary Club Foundation, Institution of Engineers, Bangladesh, and Lions International. He has received the Sarojini Naidu Medal, the Ahsanullah Gold Medal, and Dr. Md. Ibrahim Gold Medal. In 2017, the government of Bangladesh awarded him the Ekushey Padak for his contribution to Science and Technology. In 2018, the government of Japan conferred upon him the "Order of the Rising Sun, Gold Rays with Neck Ribbon," one of its highest civilian awards. He is the recipient of the 2017 BDI Lifetime Achievement Award.